Featured Artists
DAMIAN AQUILES / OXIDATION PAINTINGS
ALBERTO CASADO / REVERSE PAINTING ON GLASS
ANGEL DELGADO / SOAP SCULPTURE/HANDKERCHIIEFS
VLADMIR LLAGUNO / PAINT AND COLLAGE
ERNESTO LEAL / PAINTING
RENE FRANCISCO RODRIGUEZ / DRAWINGS / PAINTING /SCULPTURE
RENE QUINTANA PAINTING / WORKS ON PAPER
LIUDMILA &NELSON / PHOTOGRAPHY
YALILI MORA & DANIEL RIVERO / PAINTING
JAIRO ALFONSO / WORKS ON PAPER
Some highlights from the exhibition include: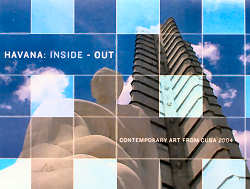 The intricate soap carving sculpture and drawings on handkerchiefs by Angel Delgado dealing with personal privacy issues especially his time spent in solitary confinement. Ernesto Leal's grand paintings are more abstract in nature using a secret process to produce multi-layered canvases that remind the viewer of stone and marble. Alberto Casado's reverse paintings on glass utilize aluminum foil and present a unique storytelling process and imagery. Rene Francisco Rodriguez the oldest artist in the exhibition and a professor at Cuba's Instituto Superior de Arte (ISA) has represented Cuba in the Venice Biennale. His paintings and sculpture speak in a language of their own, the Tubosutra, utilizing the toothpaste tubes allocated to each Cuban as his raw material to communicate his vision of being "pushed or squeezed." Damian Aquiles rounds out this sensational group as artist and as Ferrara's Cuban co-curator. Aquiles' work is multi-dimensional, as are most Cuban artists' works. His detailed paintings evoke images of daVinci drawings and his special oxidation process utilizing found objects treated with sea water give his work an old world feel.
HAVANA: INSIDE- OUT, Contemporary Art From Cuba 2004, will present art works from Cuba never before seen in the US. The exhibition will be on exhibit to the general public from March 6 – 30, 2004 with an opening reception on Saturday March 6, 2004 6-10PM. The artwork from HAVANA: INSIDE-OUT is available only at Jonathan Ferrara gallery or online at www.jonathanferraragallery.com.
Jonathan Ferrara gallery is located at 841 Carondelet Street on the Historic St. Charles Avenue Street car line in the Arts District. . The gallery is open Tuesday through Saturday 12-6pm and by appointment and has monthly openings on the first Saturday of the month featuring the work of local, national and international artists working in painting, sculpture, glass, metalwork, mixed media, photography, installation, performance and video art.